From Wasteland To Wonderland
Sustainable Development Goals
Our Goal
Conserving the environment for perpetuity while maintaining Awesome Moments!
1
We are committed to the Sustainable Development Goals which resonates throughout our unyielding efforts in building a 'Green' park.
2
Ensuring attractions has minimal impact on the beautiful environment in which we operate and the wildlife who call Lost World Of Tambun their home.
3
Our team endeavour to achieve a theme park which is unique in its offering of modern attraction while preserving culture, heritage and Mother Earth.
Building new rides and attractions in our park mean no trees were harmed or left behind. If they were in the way, trees will be relocated within the new attractions or to beautify other areas.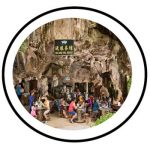 Caves in different sizes, whether big and small are preserved within our expansive park. Our team ensures that their 400 million years old stories are told to those visiting our park. One of our successful endeavours is in Lost World Tin Valley, home to tin mining artefact and a unique dining experience called Dulang Tea House.
Excess hot springs water is harvested and allowed to cool down in our tanks before channelling it to our Water Park. Our immaculate landscape re-uses water from surrounding retention pools for the purpose of irrigation. Lake water is also channelled to our water features.
Lost World Hotel's air conditioning system is an inverter technology which consumes an ozone friendly gas called r410A. The energy consumed has been reduced by 40%. Our hotel also uses solar panels to heat water within the Hotel. In the past few years, we have introduced the electric buggy which transport guests within our park, minimising the usage of our diesel train.
As a Sunway conglomerate, we have been practising the usage of energy efficient LED lighting. This has not only helped save us in monetary terms but evidently, productivity within the Technical team has increased.
We are currently practising a modest waste management program. Our partner will sieve through waste to be recycled. 'Black Gold' or compost are made using some of this waste. They are then used in our landscape especially in our Lost World Petting Zoo attraction. We have also been using Effective Microorganism or simply EM introduced by Dr.TeruoHigato clean our animal enclosures and zoo vicinity.