LOST WORLD HOT SPRINGS BY NIGHT
Lost World Hot Springs and Spa located at Ipoh, Malaysia is the place for you to rest, relax and rejuvenate. Just immerse yourself in our 100% natural mineral hot springs, the concentrated minerals accompanied by our traditional massage at our Crystal Spa that will refresh you after a long day of exhausting fun!
For your comfort and safety, all visitors are required to comply with DRESS CODE when swimming or using the rides in the waterpark. Kindly refer swimming attire guide, HERE
Saphira's Lair
The Saphira's Lair is specially created for children, portraying a virtual world complete with the luminous and colourful light to illuminate the glowing rain forest. When the sun sets in the evening, the lights take its place at the Lost World Hot Springs Night Park, Ipoh. Not only children get to spend quality time with their families and friends too can benefit from the hot springs water and its healing properties.
Crystal Spa
Crystal Spa is a spa facility where visitors can enjoy body therapy at a nominal charge. The spa offers aromatherapy and head & shoulder massage within the privacy and comfort of your own massage hut. Treat yourself to an invigorating massage of your choice and feel rejuvenated from the inside out. Crystal spa is open from 12 noon till 11pm.
Infinity Pool
Unlike any other man-made hot springs, it is specially designed to function as a true spa. The Infinity Pool can accommodate up to 300 people at once and is surrounded by the serene and calming sounds of the volcanic Ipoh waterfall.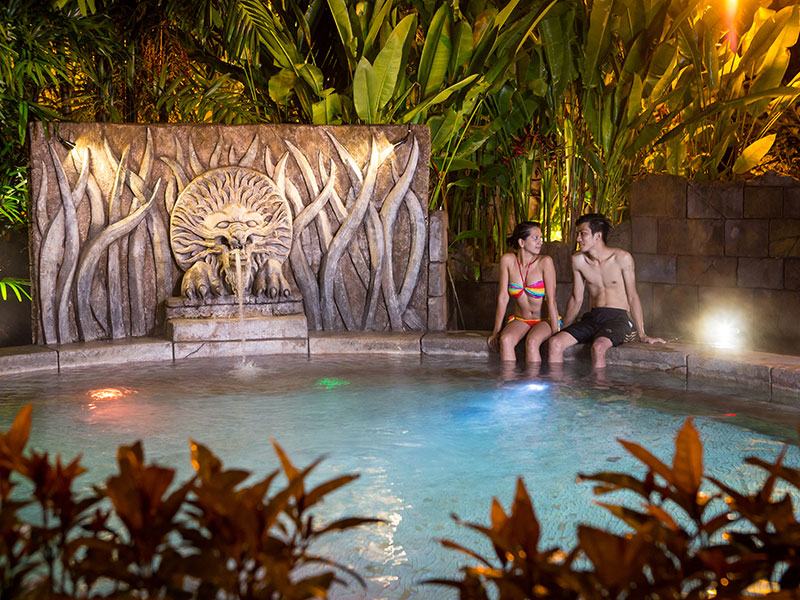 Crystal Pool
The Crystal Pool at Lost World Hot Springs Night Park is specially designed with crystal tiles that glimmers reflecting the sunlight by day. And by night the Crystal Pool will be bathed in colourful lights which would make a dip in this pool interesting and relaxing. This Crystal Pool can also be privately reserved as a VIP pool.
The Geyser Of Tambun
The Geyser of Tambun sprout thermal hot springs water 40 feet up and will tremendously impact a pleasant surprise as it erupts every hour. With subtle lighting effects it excludes a beautiful experience for those who visit at night.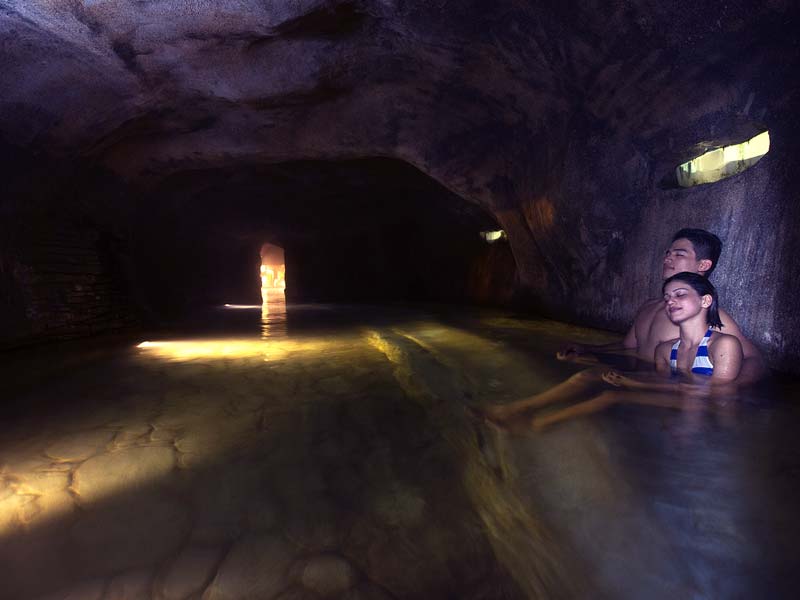 Steam Cave
To experience the true spa in Ipoh, Malaysia, the Lost World Steam Cave is great because it acts as a sauna, promoting detoxification leaving the skin clean and refreshed, whilst encourages blood circulation. A visit to the Lost World Steam Cave may be what you need to de-stress.
Top Of The World Pool
Right at the very top of the Lost World Hot Springs Night Park sits the Top of the World Pool. This pool is a jacuzzi pool with pampering massage water jets that allows a full range of therapeutic hydro-massage for muscles, joints and pressure points.
Foot Spa
The Foot Spa is a unique pool of reflexology pebbles fitted to the floor. Visitors can walk on the pebbles while enjoying the natural Ipoh hot springs water soothing their feet. It cleanses the body of toxins and impurities and also stimulates the production of endorphins, leading to an improved immune system and sense of well-being.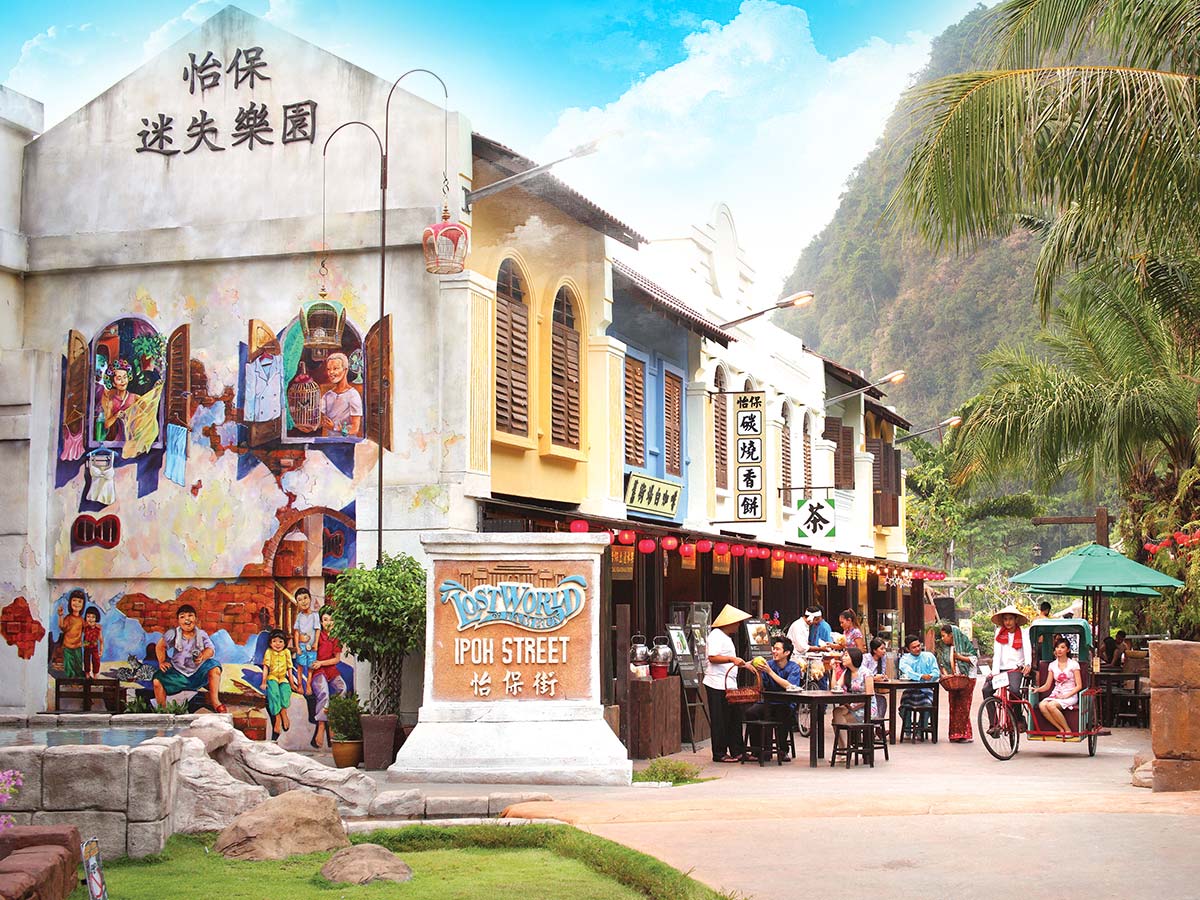 Ipoh Street
Modelled after a typical street in Ipoh town, Ipoh Street at Lost World of Tambun is every bit as charming as the original. With popular street food and snacks, Ipoh Street is a welcomed sight after a good dip at the hot springs.
Jungle Wave Pool
The Jungle Wave Pool is Malaysia's biggest wave pool and it's now open at night for your enjoyment.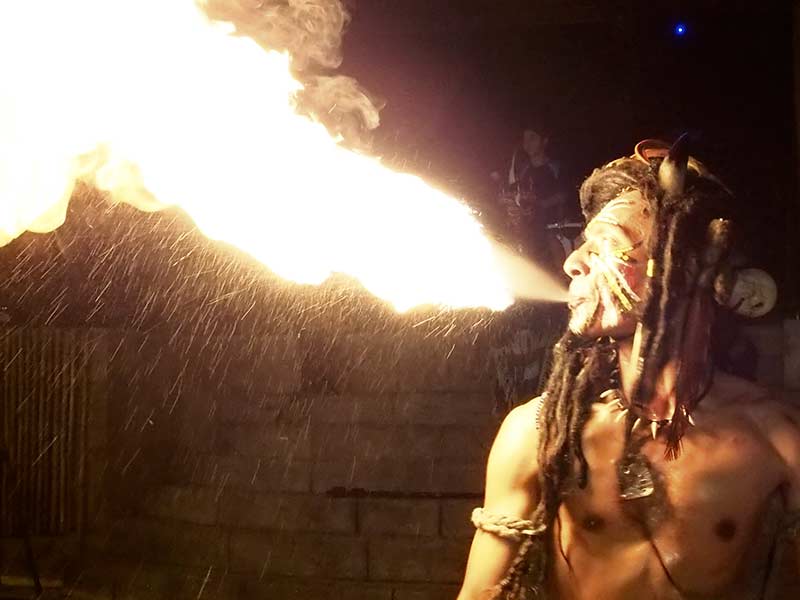 Flaming Percussions
A merry band of fire eaters, jugglers and percussionists perform a perfectly medley of beats, dance and fiery entertainment only at Lost World of Tambun, Ipoh Malaysia. Performing nightly, these rowdy folks never fails to get your feet tapping to its jungle beat and take your breath away with daring stunts and tricks with fire.
Flaming Percussion
Time: 9:00pm
Location: Lost World Hot Springs & Night Park Stage
Monday, Wednesday & Thursday (daily during School Holidays & Public Holidays)